If you have already had MSN account, you can go to
http://home.live.com/
and login to create your photo albums. Or you can register new MSN account:
1. Now let's click
Sign Up
to register new account, the form appear, you must type some your information, and click
"I accept".
2.After registering successfully, you will be redirected to your MSN account. Now let's click
"Create an album"
to start to create new album.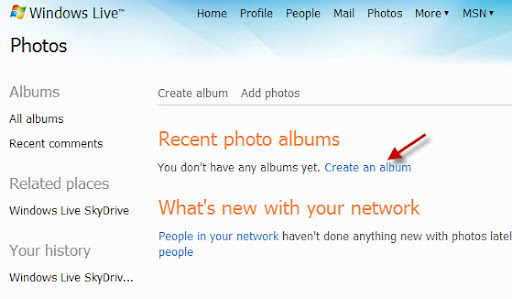 3. Next, type your album name and choose share type (everyone, just me ... ), and click
Next

4. Choose some your photos to upload and after uploading you will see your new album, below is my album (:D)
5. You can view your album by many types : icons, details, thumbnails (same as Windows Vista). Clicking "More" link, you can download your photo, edit, delete, rename ... your albums or photos.
6. If you want to view all photos as slideshow, you can click "Slideshow" to view.